Pedometer Power
Health experts recommend wearing a pedometer with the goal of 10,000 steps per day.  Most people get less than 3,000 steps per day.   Pedometers are small electronic, battery operated, counting devices that are worn on your waistband or belt.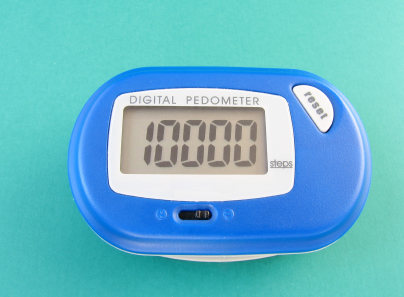 The benefits of pedometers are many.  10,000 steps per day can assist with weight loss and maintenance, help lower blood pressure, decrease risk of osteoporosis, promote a sense of well-being and enhance deeper sleep.  Wearing a pedometer can be one of the easiest things to do for  daily fitness and throughout your day. 
Tracking your steps throughout the day can be very motivating.  A pedometer can subconsciously urge you to take the stairs instead of the elevator or walk to a co-worker's office instead of calling or e-mailing.  Most of us are goal-oriented and have a sense of competition within us.   Counting steps with a goal of 10,000 can be more motivating than you think.  It has been said that people need to walk 10,000 steps a day to maintain an active lifestyle and burn 20% of their caloric intake from the day. 
Pedometers can range from $10 to $50.  Pick one up and see if wearing it motivates you to be more active and reap the many health benefits.  Have fun with it.  Keep track of how many steps you trek each day.  Make it your own game to increase day to day, week to week.  My kids are so interested (competitive or checking up on me!?) in my steps that they ask me at the end of the day how many I did.  Now, that's motivation!
Believe In Yourself,
Cathy